Monterosso Val d'Arda Festival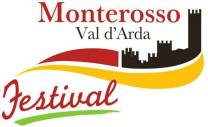 On 21 and 22 May will take place on Monterosso Val d'Arda Festival in the wonderful setting of Castell'Arquato.
The event aims to promote the area, its history and its products.
In these two days the production of the wine cellars will offer their product through tasting sessions and you will learn about the wine of Val d'Arda.
Cantina Bell will attend the event with Monterosso still and sparkling white wine that follows the tradition of these lands.
Tasting will also be present all the wines of the brand line Ciocca including Ortrugo, Malvasia, Cabernet Sauvignon, firm Red, sparkling Gutturnio, higher Gutturnio and Bonarda.
We are waiting to know our company, our history and our products.
Also there will be food stands and other side events during the two days of the Festival.